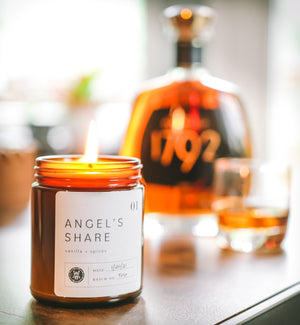 Angel's Share Scented Candle
Sale price Price $22.00 Regular price
Our Angel's Share candle is handmade using soy wax and scented with vanilla & spices, designed to be reminiscent of the delicate, sweet notes found in bourbon. Each candle is 9oz and comes in an amber glass jar with a lid. 
Please note that there may be slight imperfections in your candle as they are handmade by Sara.
For best results, the first time you light your candle allow it to burn for at least 1-2 hours or until the top layer of wax is fully melted to the edges of the container. This will help prevent tunneling and will help your candle burn better and last longer. We hope you enjoy our bourbon and whiskey themed scented candles!